Mr. Tsuguoki(Aki)Fujinuma honored with this year's spring decoration
May 26,2015
Mr. Tsuguoki (Aki) Fujinuma, the former Chairman and President of the JICPA, who also served as the President of the International Federation of Accountants (IFAC) and the Vice-Chair of the Trustees of the IFRS Foundation, was awarded a state decoration, the Order of the Rising Sun, Gold Rays with Neck Ribbon, in recognition of his leadership and continuous contributions to the accounting profession.
Mr. Fujinuma was also honored with a testimonial commending for his achievements by Mr. Kimitaka Mori, Chairman and President of JICPA.
Exchange Meeting with CICPA
May 25,2015
On May 21, 2015, Mr. Kimitaka Mori, Chairman and President of JICPA, and representatives from JICPA visited the Chinese Institute of Certified Public Accountants (CICPA) and met with Ms. Feng ShuPing, President of CICPA.
During the meeting, JICPA and CICPA discussed the matters related to the accounting profession in both countries, and reconfirmed to further accelerate mutual understanding and cooperation between the two institutions.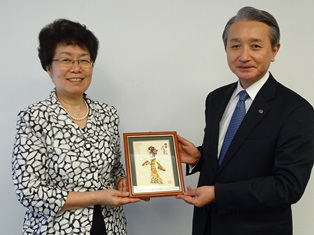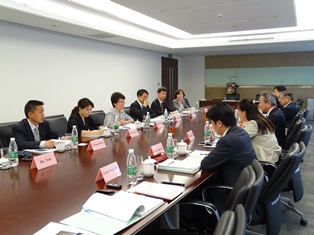 The Financial Services Agency published "IFRS Adoption Report"
May 7,2015
The Financial Service Agency (FSA) released the English version of "IFRS Adoption Report" published on April 15, 2015.
This Report is based on the fact-finding survey and interviews of companies that have voluntarily adopted IFRS and is expected to serve as a useful reference for companies considering adopting IFRS.
The English version released on April 30, 2015 includes only the Main Part of the Report and the Reference Part is planned to be published in due course.
Please find below for details.
FSA website: http://www.fsa.go.jp/en/news/2015/20150430-4.html