"Integrated Reporting - Corporate Reporting for Long-term Value Creation" was successful
September 17,2014
On September 2, 2014, JICPA co-sponsored a symposium entitled "Integrated Reporting – Corporate Reporting for Long-term Value Creation" to discuss the future of corporate reporting in the age of globalization.
Mr. Kimitaka Mori, Chairman and President of JICPA, opened the symposium with an introduction to Integrated Reporting <IR> and JICPA's activities to date in support of <IR>. During the morning session, a dialogue was held between Mr. Paul Druckman, CEO of International Integrated Reporting Council (IIRC) and Mr. Tatsumi Yamada, Ambassador of IIRC and a former Board Member of the International Accounting Standards Board (IASB), followed by a panel discussion on value creation and the future of management and corporate reporting.
Mr. Atsushi Saito, Director & Representative Executive Officer, Group CEO of the Japan Exchange Group, Inc. delivered a keynote speech during the afternoon session, which was also followed by panel discussions covering "Stewardship code and dialogue between companies and investors," and "International <IR> Framework and corporate reporting practice." A number of experts and scholars attended the symposium and carried out heated discussions and in-depth communications until the closing time.
JICPA hopes to continue driving better understanding of, and further dissemination of <IR> across Japan.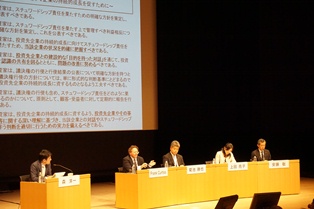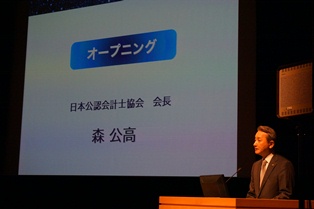 The 35th JICPA Annual Conference was successful
September 16,2014
On September 4, 2014, the 35th JICPA Annual Conference was held in Tokyo. The total of 11 concurrent sessions were held, including the ones on the professional skepticism and implementation of the Code of Ethics for Professional Accountants published by International Federation of Accountants (IFAC), as well as the roles played by CPAs in the development and growth of Small-Medium-Sized Enterprises (SMEs). Experts from the fields of corporate governance as well as intellectual property rights in M&A transactions also offered interesting perspectives on the current issues in each field.
Mr. Masahiko Fujiwara, a mathematician and professor emeritus at Ochanomizu University, who is also best known as an essayist, gave a commemorative speech.
The conference was attended by over 2000 JICPA members and individuals from related fields.