The 34th JICPA Annual Conference was successful
September 25,2013
On September 5, 2013, the 34th JICPA Annual Conference was held in Kobe. The total of ten concurrent sessions were held, including the one on International Education Standards (IESs) participated by the Chair of the International Accounting Education Standards Board (IAESB) of International Federation of Accountants (IFAC).
Speaking about the mission and presenting the overview of the IAESB's recent activities, Dr. Peter Wolnizer stressed the importance of relevant professional accounting education in meeting the demands of the marketplace and serving public interest.
Mr. Kimihiko Hirao, Director of the RIKEN Advanced Institute for Computational Science (AICS), which is currently developing the Next-Generation Supercomputer, the "K computer," gave a commemorative speech.
The conference was attended by over 1000 JICPA members and individuals from related fields.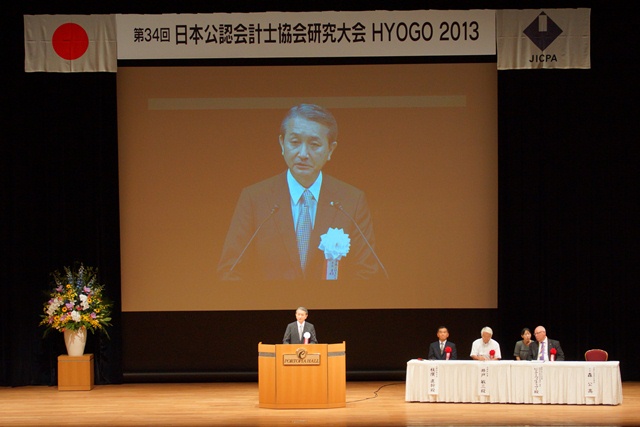 English translation of requirements included in revised Auditing Standards Committee Statements and a Quality Control Standards Committee Statement
Exchange Meeting with KICPA
September 17,2013
On September 10, 2013, the 21st Annual Exchange Meeting with the Korean Institute of Certified Public Accountants (KICPA) was held at the KICPA in Seoul. This meeting is held annually to discuss matters related to accounting and auditing in both countries, and facilitate mutual understanding and cooperation between the two institutions.