The JICPA is the sole organization for the CPA profession in Japan. It was originally formed in 1949 as a self-disciplinary association, and reorganized under the Certified Public Accountants Act in 1966. In order to practice as a CPA, a qualified person must register with the JICPA and join its membership. In this way the JICPA may effectively guide and supervise its members and maintain close contact with them for the maintenance of a strong and independent organization.
The JICPA, through its various committees and project teams, carries out a wide range of activities from self-regulation to the provision of services to its members. Some of those important activities include the following:
conducting research on and investigation into practices and systems of accounting, auditing and other related professional services in Japan and overseas;
providing guidance on auditing, accounting and other related professional services and submitting comments on various exposure drafts published by other organizations;
providing pre-qualification training courses and programs for continuing professional education;
performing quality control reviews; and
conducting investigative and disciplinary proceedings.
Organization and Administration
The Chairman and President, Deputy Presidents, Executive Board Members, Council Members, and Auditors are all elected from members for a three-year term. Their activities at the JICPA are supported by full-time JICPA secretarial staff headed by the Chief Executive.
All committee members at the JICPA are CPAs working either at audit corporations or as sole practitioners, whose services provided to the committees are strictly voluntary. Each committee is divided into several subcommittees, depending on the number of ongoing discussion themes. The chairperson for each committee is appointed by the Chairman and President of the JICPA, and an Executive Board Member is assigned to be responsible for each committee. The committees are supported by the secretarial staff at the JICPA.
The JICPA has its headquarters located in Tokyo and regional chapters are organized throughout Japan. The regional chapters support JICPA's various programs at local level and enhance members' communication with the JICPA.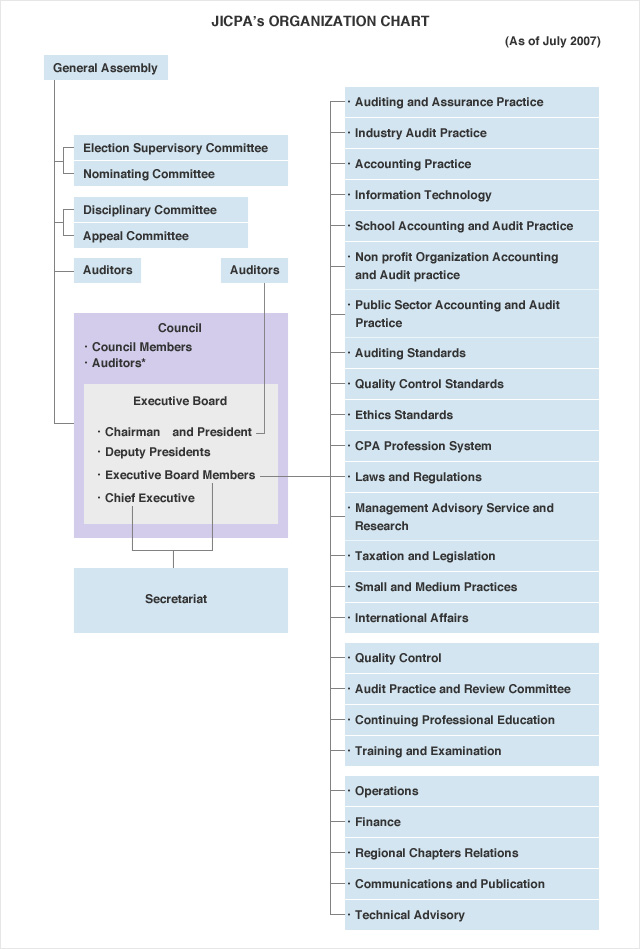 JICPA revenues substantially consist of initial membership dues, annual membership dues, and dues on statutory and specified audit services rendered by members calculated on specified percentages.